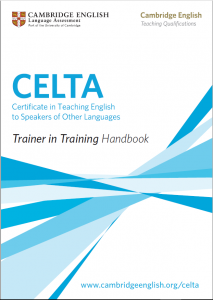 This is part three of a series of posts on the ins and outs of training to be a Celta trainer. You can find part one and part two by clicking on those blue links you have just read past. Go ahead and catch up; we'll wait for you.
The training plan?
So, you have found a Celta centre who wants to train you, and your application to start training has been approved by Cambridge Assessment: what next?
Basically, you embark on a training programme. How long this takes varies, but here are some variations:
You shadow a complete course (full-time or part-time) and towards the end start to do some of the work of a tutor under supervision
You shadow a complete course and then start to do some of the work of a tutor under supervision on a subsequent course
You do the above over a longer set of courses
When I trained up, I did it over one intensive course. I started by sitting in on everything – I basically attended and participated in a Celta course as if I were a trainee. I joined in discussions at times, and at others I sat apart and took notes. Sometimes my colleague in charge of the session would ask for my opinion as a trainee, sometimes as a peer, and sometimes as an observer. This happened mostly during input sessions but also during Teaching Practice (TP) guidance and feedback sessions. So I gained a very powerful sense of the course as it unfolded for a candidate.