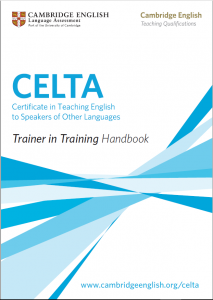 This is part two in a series of posts describing and giving advice on the process of training to become a Celta trainer.  You can catch up with Part 1 here.
The training process?
How you are trained will be the same whichever centre you train at.  There will be a difference in how this training is assessed and how your work during the training process is moderated depending on at which centre you complete it.
Cambridge Assessment allows training that is either internally or externally moderated.
Internal moderation may be offered by long-established centres with a proven track record for TinT training and which also have at least one Celta assessors on staff.  Internal moderation means that your training supervisor is directly responsible to Cambridge for confirming that you have successfully completed the training, have displayed the necessary competences and have standardised your view of teaching performance to be in line with Celta standards.  You will need to compile a portfolio of training notes and tasks, but this will not be inspected by a visiting assessor, and you will not be observed conducting input and TP observation and feedback by a visiting assessor.
External moderation is required when the training is being conducted at a centre that has not conducted TinT training before, is a relatively new centre, and which does not have assessors on staff.  Yourprogress in training will be assessed by a visiting assessor and both they and your training supervisor will complete independent reports on your performance and progress.
Whether or not your training will be internally or externally moderated is up to Cambridge, and centres will be assigned a moderation status if they do not currently have one.
Cambridge assessment recognises three types of training programme: Full, Refresher, and Induction.
Refresher training is for previously approved Celta trainers who have let their status lapse (by, for example, not working on a course within two years).
Induction is for prospective Celta trainers who already have extensive pre-service teacher training experience (perhaps for other providers such as Trinity).
Full training is described by Cambridge as follows:
Full training

Most applicants for CELTA trainer training will need to follow a full training course. This involves following a programme of structured and guided activities on a CELTA course. The training may take place intensively over one course or extensively over a number of courses. New trainers who have followed an intensive programme are likely to need considerable support on their first course.

(quoted from the Cambridge Assessment Celta Trainer in Training Handbook V4.0)
For the rest of this series of posts, let's focus on Full training, as this is the most common pathway.  Let's further assume that your course of training will be externally moderated.
In coming posts, I will outline the training process in depth, but here are the basic steps in the process:
You get chosen by a centre to train as a Celta tutor
The centre sends a Trainee Nomination Form about you to Cambridge.  They also send a letter of recommendation for you from the Head of Teacher Training or Centre Manager
The centre designs a training programme for you and submits it to Cambridge Assessment for approval.
When Cambridge gives their approval, you can start the training programme
During the training programme, you complete the designated tasks and compile a portfolio of work
Towards the end of the training programme, you are assessed by an external assessor during a running Celta course. The external assessor observes you conducting input and supervising TP and reads your portfolio (let's go into what this should include in a later post)
The assessor will have a discussion with you about your training, and will also discuss your training with your training supervisor
The external assessor writes a report on you and sends this to Cambridge assessment and your centre's local Joint Chief assessor (or JCA)
When the training programme has finished, you write an evaluative piece of written work and the centre sends this to Cambridge and their JCA together with a report on your performance
The JCA considers the evaluative piece that you wrote, the reports from the training supervisor and the external assessor and reports to Cambridge English. The JCA may ask to scrutinise your portfolio before completing the report. Trainers-in-training should retain their portfolio intact for a minimum of two months in case it is requested by the JCA.
The JCA confirms with Cambridge English any recommendations relating to the trainer-in-training and any need for continued training.
Cambridge English informs the centre of the status of the trainer-in-training – which hopefully means they approve you
And that's it.  Sometimes you can complete this over one intensive course (4 weeks).  It is probably more common to spread this work out over two or even three consecutive courses.
During the training period, you will have – or should have – regular meetings with your training supervisor and others involved in your training to allow you to discuss and reflect on what you are observing, and how this relates to your beliefs about teaching and learning.  You can – and probably should – expect your beliefs to be confronted and challenged by what you observe.  You will need to be well organised and prepared for these meetings because everyone's time is limited during a Celta course.
In the next post, we will look at training plans and getting to grips with pre-course documentation and reading