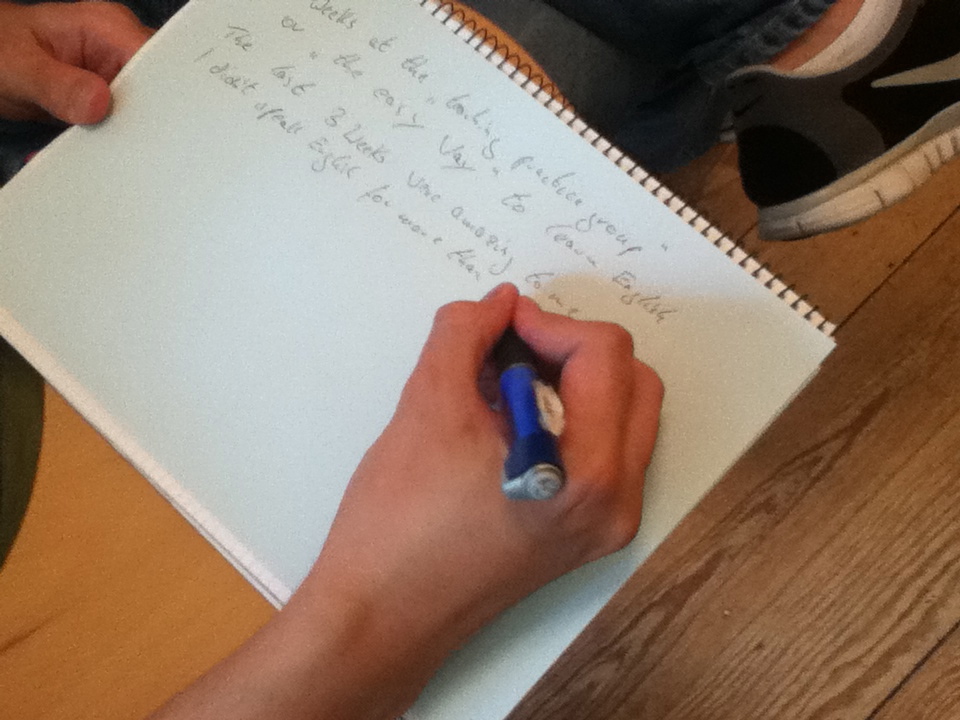 Earlier today I unexpectedly had the opportunity to cover a teaching practice slot on our CELTA course. As I was watching one of my trainee teachers working with a recording of a book-club discussion about Dan Brown's The Da Vinci Code, I started to think about what I could do next with the student group that would be challenging and worth their while.
I decided to ask them if they were writers themselves, and it turns out that one of them had recently penned a poem to a friend on the occasion of their birthday (if I understood them correctly). from here, I made a connection to some poetry writing that I had been doing with students recently myself, and this led me to my blog.
I showed some of my recent posts and then admitted a problem: I am so busy with the current training course that I was afraid about not getting my next post out in time.
The class agreed – cautiously – to becoming my first ever guest blog post writers, with a post about their experience as students working with my trainee teachers in teaching practice. .
We defined who my typical readership was and what they were likely to be interested in hearing about, and then I let each student write about whatever they felt like in response to this. I spent my time supporting them and refining where I could, but I didn't suggest content.
They agreed that I could post their comments on their teaching practice experience here, and I would love it if you would reply to them in a comment.
Here are my guest bloggers – hot off the classroom press…
It was great fun to be a student in this CELTA-course in Hamburg. In a very relaxed atmosphere, I learned from the different teachers. They came from different backgrounds, so I was able to listen to a variety of accents. The lessons were short enough (1 hour each), but filled with activities, information and laughter.
Grammar is not my cup of tea, but it was part of the teaching practice group and I was surprised, after hard lessons for me and maybe for the teacher, I got it. At the beginning of the course I had a lot of question marks in my eyes, but now there are only a few. It was a nice, open, friendly atmosphere to speak in so I felt no pressure to speak.
Normally the group count round about 12 members/students but it depends on the weather. During sunny days the course changes in an intensive course (with four or six students). There are different teachers from different countries USA, Great Britain and also Germany. You learn to make a difference between American or British pronunciations. The atmosphere in class is relaxing and you can quickly lose the fear to speak in front of a group. The teachers give you a lot of occasions to speak English. You work together in groups to discuss subjects. However you also learn grammar rules.
To all those who have been thinking taking lessons at Hamburg school of english, I would like to inform about my experience at that house. One of the most useful things was that I was taught through important topics of this language by different native speakers from all over the world. It was impressing just to get the feeling of it. For example I had to work in groups with several students who were most of them at my level which was really well, because you can get in touch with different people and have a chance to express yourself. Furthermore one had to be creative just to be able to fulfill the exercise. The lessons were very challenging which made it exciting. In addition to/besides it cost(s) just 90 € for two weeks which is unbeatable. So just try and get your own view.
– For me, the big variety of topics the teachers chose themselves, was interesting.

– I liked the relaxed atmosphere. we often worked in groups or teams and we had a lot of fun.

– The course took place in a beautiful location, in an old villa in Hamburg Eppendorf.

– The teachers were open-minded, friendly and very patient with us….
My weeks at the "teaching Practice group" or "the easy way to learn English"

The last 3 weeks were amazing for me. I didn't speak English for more than 8 years and I decided to refresh my skills. I read about the "Hamburg School of English" in the internet and I thought "this could be a great first step." And so it is! The teachers from the CELTA course are doing a real good job. They are from Britain, the States and from Germany. So we get more exposure to English from all over the world. They're so powerful and enthusiastic and even though were small mistakes in some lessons, I have to say that these trainees re-opened the door for my love to this language.