This is just a short note to update you all on some new things you can find here now.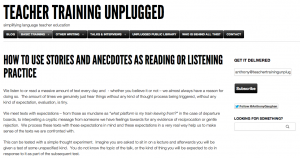 BASIC TRAINING is an ongoing series at sharing in straightforward and low-tech ways how to go about teaching, simply.   The first instalment is on how to get learners talking and capitalise on what they say and the brand new second instalment is on how to use stories and anecdotes for reading or listening practice.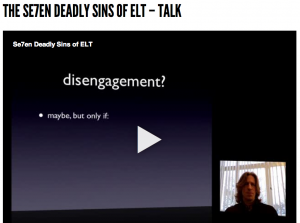 THE SE7EN DEADLY SINS OF ELT (talk) is an old video version of the talk I gave this year at IATEFL that I know some of you wanted to attend but couldn't because the room was full.  Although the sound quality is not optimal and my hair is a good deal longer, I thought I would share it and I hope you find it useful. You can find it here.
I'll keep adding to the site as and when I have time, so thank you for your patience and for reading!
Anthony