Funny how half a year can slip by…
It is with some shock and no small degree of shame that I realised it has been that long since my last post here.
So I thought I would give you all a quick update on some of what I have been up to and what I'll be doing in the near future,  additions to the site and things I've written for others elsewhere (click on the images below to view the pages.)
IH World DoS Conference 2015
It was a great honour to be invited to give a talk at this event, held in Greenwich, UK last February.  As far as I could tell, my talk on the Se7en Deadly Sins of ELT went down well, and provoked some robust debate as well.  Thanks to Shaun Wilden for asking me to be part of this event.  One of the fun challenges of the weekend was in Shaun's and Niki Fortova's own workshop, where the team I was on managed to film, edit and publish the following short movie trailer in a stupidly short period of time – great idea for class work.  If I manage to get permission from all those in the film, I'll post it here later.
IATEFL and all that…
I'm also honoured to be part of the TDSIG Pre-Conference Event at IATEFL Manchester 2015, kicking off this coming Friday.  The theme revolves around sharing and solving problems and issues we are encountering in our teaching, and revealing and reveling in the rewards of our work.  Come along if you can – I think there are still tickets available that you can get early on the day if you are lucky.
I've contributed two posts to the IATEFL Teacher Development Special Interest Group (TDSIG) website: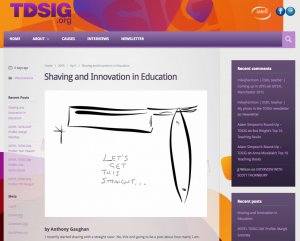 In other news…
I've also updated my site a little, firstly by repairing a lost welcome video on my who's behind all this? page: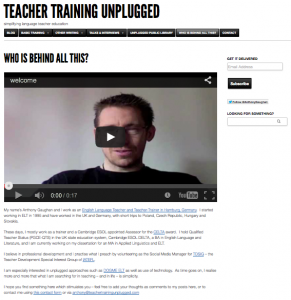 I've also added a short Q and A video with me about Celta that we filmed a few years back.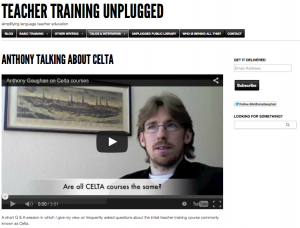 There are a few more housekeeping chores I plan to do shortly, such as repair broken links to some video content, and try to make available again the video of my and Izzy's talk at IATEFL Harrogate back in 2010. The British Council, understandably, have mothballed that year's IATEFL Online content, and so the video of our talk and interview have disappeared. I want to see if I can get permission to upload it under my own steam, but we'll have to see.