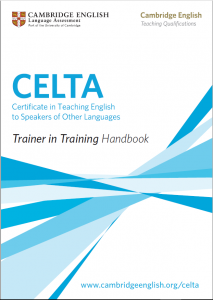 This is a series of posts on the ins and outs of becoming a Celta trainer.  You can find the previous posts here: part one, part two, part three.
Pre-course?
The purpose of the pre-course training phase is to familiarise you with the bulk of administrative and regulatory documentation produced by Cambridge Assessment and your training centre.  You need to be familiar with these documents to a very high degree, and you also need to become aware of any changes to these documents in a timely fashion.
This will involve a lot of desk study of handbooks, timetables, rotas, application forms and other paperwork.  The tasks your centre asks you to complete while inspecting these documents should get you to appraise them critically as well as relate them to each other.
Having said that, bear in mind that you are the novice in this relationship and it is generally better to ask for the reasons why something is arranged the way it is if this is not apparent to you, than it is to assume that the arrangement could be improved; there may be restraints of which you may not yet be fully aware.
In the TinT Handbook, Cambridge outlines 9 areas of study for the pre-course phase, each of which is linked to a task.  I won't repeat completely what you will find in the handbook here, but instead make a few comments and give some tips of my own in relation to them.  Your own training supervisor may have other advice and if this is the case, follow their lead and see where it takes you.